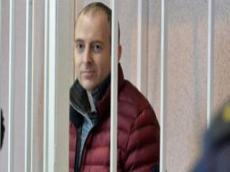 By Azernews
By Rashid Shirinov
Blogger Alexander Lapshin, who is under arrest in Baku, was transferred to the infirmary of the detention facility, as the doctors gave him a diagnosis of tachycardia, said detainee's lawyer Eduard Chernin.
"Currently he is being treated in the infirmary," he told Trend on April 17.
Earlier, the court extended the arrest of the blogger three months.
 "Previously, he complained to me of pain in the heart, was then taken for examination in one of the private clinics where he was diagnosed as 'tachycardia'. Currently Lapshin feels fine," added Chernin.
Lapshin, who owns citizenship of several countries, will stand trial in Baku for his illegal visits to the occupied Nagorno-Karabakh region of Azerbaijan. He was detained in Minsk in late 2016 and extradited to Baku in early February.
The blogger is charged under the articles 281.2 (open calls against the state ) and 318.2 (illegal crossing of the state border) of the Criminal Code of Azerbaijan.
 Unauthorized visits to Nagorno-Karabakh and other regions of Azerbaijan occupied by Armenia are considered illegal, and any individuals paying such visits are included in the Azerbaijani Foreign Ministry's "black list".
Azerbaijan's Foreign Ministry and diplomatic missions pay special attention to the illegal activity in the occupied areas of Azerbaijan.
Baku has repeatedly warned foreign officials and diplomats of illegality of visits to its territories that are occupied by Armenia, calling them contradictory to international law. The work is constantly carried out to prevent such illegal actions.