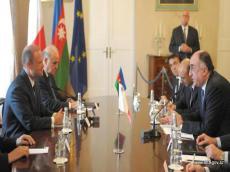 By Azernews
By Kamila Aliyeva
Malta supports the signing of the Strategic Partnership Agreement between the European Union and Azerbaijan, said Joseph Muscat, Prime Minister of Malta.
Muscat made the remark at a meeting with Azerbaijan's Foreign Minister Elmar Mammadyarov on April 17, adding that the country is ready to contribute to this process, the Foreign Ministry reported.
Highlighting the importance of relations between Azerbaijan and the EU, Muscat applauded the EU's high-level officials' assessment of the relationship as a strategic partnership.
The new agreement should replace the 1996 partnership and cooperation agreement and should better take account of the shared objectives and challenges the EU and Azerbaijan face today.
The first meeting on a new agreement between the EU and Azerbaijan was held in Brussels on February 7, 2017. The next round of negotiations on the agreement will be held in Baku on April 25.
Muscat further expressed satisfaction with the current high level of bilateral relations between Malta and Azerbaijan.
He mentioned that Malta is interested in expanding cooperation with Azerbaijan and expressed his confidence that this visit will contribute to the development of relations between the two countries.
Mammadyarov, in turn, said that the relations between the two countries have developed dynamically in the recent years and the high-level visits have created fertile ground for their further enhancement. In this regard, the minister stressed the positive results in the development of cooperation in economic and energy fields.
Noting that the official visit to Malta coincided with this country's EU presidency, Mammadyarov briefed the Prime Minister about the development prospects of EU-Azerbaijan relations and the negotiations on the draft of the agreement for cooperation with EU.
The minister also touched upon the negotiations process on the settlement of the Armenia-Azerbaijan Nagorno-Karabakh conflict and stated the importance of expressing EU's commitment to the principles of territorial integrity, sovereignty, independence and inviolability of borders of states in a common and unambiguous manner in respect of all conflicts.
The sides also discussed the development of relations in various fields and exchanged their views on transnational energy and transport projects, as well as other topics of mutual interest.
Following his Malta visit, Mammadyarov will travel to Italy, where will attend the opening of a photo exhibition on the 25th anniversary of the establishment of Azerbaijan-Italy diplomatic relations.
He will also give a lecture on "Azerbaijan's foreign policy and relations with Italy" at the Italian Society for International Organizations.