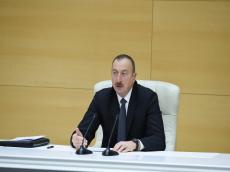 By  Trend
Azerbaijan's President Ilham Aliyev has hailed the development of tourism in the country.
"The number of tourists increased by 11 percent last year, while it rose by 25 percent in the three months of this year. It is obvious now," said President Aliyev in a closing speech at a republican conference of non-oil exporters in Azerbaijan's Yevlakh District.
"The number of tourists is increasing dramatically both in Baku and regions of the country. And there are, of course, reasons for this. This has not happened spontaneously. The work done in recent years has led to this situation. First of all, stability, tranquility, social and political order reigning in Azerbaijan, of course, make the country more attractive to tourists. Particularly, under current circumstances when there is tension in various parts of the world, threats, conflicts, social discontent is growing, mass protests are widespread. None of these problems exists in Azerbaijan," he noted.
"Azerbaijan enjoys unity of the people and the government. Our policy is supported and approved by the people. And this is the key factor of stability in Azerbaijan," added President Aliyev.