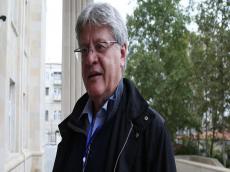 By Azernews
By Rashid Shirinov
The Nagorno-Karabakh and Transnistria conflicts will be priority for the new Parliamentary Assembly of the Council of Europe (PACE) Subcommittee on conflicts, Chairman of the Subcommittee Stefan Schennach told Report on April 17.
He said that the third priority conflict will be determined later, and work in this direction is ongoing.
He added that the first meeting of the subcommittee will be held in Helsinki in May, and another meeting will be held in Vienna in June.
Schennach was elected the chairman of the new PACE subcommittee on conflicts in March. He is also a co-rapporteur of the PACE Monitoring Committee.
For more than two decades the Armenia-Azerbaijan Nagorno-Karabakh conflict remains the trouble spot of the South Caucasus region. Two countries are in a state of war following Yerevan's aggression, ethnic cleansing policy and illegal territorial claims against Azerbaijan. Armenia occupied over 20 percent of Azerbaijan's internationally recognized territory, including Nagorno-Karabakh and seven adjacent regions in a brutal war in the early 1990s.
Despite a fragile ceasefire agreement signed in 1994, Armenia keeps violating armistice with Azerbaijan.