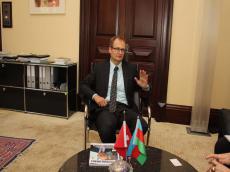 By  Trend
The political and economic relations between Switzerland and Azerbaijan are excellent, friendly and very intensive, said Philipp Stalder, the Swiss ambassador to Baku.
The envoy, talking to Trend, reminded that 2017 marks the 25th anniversary of establishment of the diplomatic relations between Azerbaijan and Switzerland.
"We are very privileged that Azerbaijani President Ilham Aliyev regularly visits Switzerland to attend the World Economic Forum (WEF) in Davos and the presidents of two countries have regular meetings," he said.
The ambassador stressed that furthermore, Azerbaijan and Switzerland have cultural activities like this weekend, when athletes from Switzerland arrived to Baku within the framework of the week of French language and the Francophonie and performed a great event of Parkour together with Azerbaijani sports men at Ichericheher, which was attended by many spectators, citizens and tourists
"As an Embassy, we always want to develop things and promote cooperation in all kinds of areas, including political, economic, cultural spheres, exchanges between universities etc. and that's what we're pushing for," added the ambassador.
He further spoke about the investments, saying that there are a lot of private Swiss companies that are active in Azerbaijan, and some have already made investments in Azerbaijan's Sumgayit Chemical Industrial Park.
"We support this, of course, but at the end of the day it is up to the private companies to decide on the possible investments," he said.