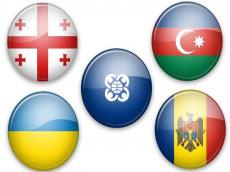 By Azernews
By Sara Israfilbayova
GUAM, a regional organization uniting Georgia, Ukraine, Azerbaijan and Moldova, may convene a special meeting in fall of 2017 to explore ways to develop energy cooperation.
Azerbaijan's Minister for Industry and Energy Natig Aliyev met with GUAM Secretary General Altai Efendiyev, to discuss the conditions for the development of energy cooperation between the member countries of the organization.
Efendiyev pointed out that Azerbaijan, which has such advantages as a developed transport system and transport corridors, should seize these opportunities.
The shortest way from Europe to the countries of Central Asia, the Middle and Far East, in particular the Transport Corridor Europe-Caucasus-Asia (TRACECA) and North-South, as well as the road and railroads connecting the basins of the Black and Caspian Seas passes through the territory of Azerbaijan.
Azerbaijan, occupying one of the key positions in creating the shortest transport corridors in the Euro-Asian region, is a major transport hub in Europe-Caucasus-Asia transport system.
Efendiyev proposed holding meetings to expand cooperation in the energy sector within the framework of GUAM in the format Ukraine-Azerbaijan and Georgia-Azerbaijan.
In turn, Aliyev noted that energy cooperation within GUAM can be effective on the basis of any project that meets the common interests of the participating states.
GUAM plans to begin discussions on these issues with other members of the organization in a short time.
A the same time, the Organization is keen to cooperate with third countries and international organizations that share its goals and principles, and are also ready to participate in the implementation of joint initiatives.
GUAM, established in 2006, targets larger economic and humanitarian cooperation, development of socio-economic, transport, energy, scientific, technical and humanitarian potential, intensify political interaction and practical cooperation in areas of mutual interest.