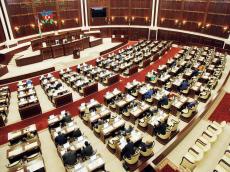 By Azernews
By Amina Nazarli
Another plenary session of the Azerbaijani Parliament kicked off in Baku on April 14.
The session agenda includes 36 issues alongside the 2016 report of the Accounts Chamber.  
Firstly, the parliamentarians heard the Chamber Chairman Vugar Gulmammadov's report and approved the document after discussions.
MP Siyavush Novruzov, addressing the session, proposed to give additional powers to the Accounting Chamber.
"Violation of the law and financial infringements in various spheres harm the budget. Return of the funds is one of the main conditions, no matter how severe the punishment, "he said, adding that the Chamber should be given the authority to take action in this regard.
MP Gudrat Hasanguliyev, in his speech, proposed to create a budget committee at the Parliament.  
The MP noted that the establishment of such a committee in the Parliament as a structure that will monitor the budget is very important.
Hasanguliyev also said that persons assigning public funds should be seriously punished.
The issue on establishment of Interparliamentary Working Group of Azerbaijan and Djibouti was also discussed at the session.
The parliamentarians voted for the creation of the group, which will further develop inter-parliamentary ties with this country.
 MP Vusal Huseynov was elected the head of the working group on Azerbaijan-Djibouti interparliamentary relations.
The Parliament also approved the bill "On Restriction of the Use of Tobacco Products" in the first reading.
The bill specifies places where smoking cigarettes is prohibited. In particular, these are educational institutions, sports venues and other mass events, shopping venues, restaurants, cafes, bars and other catering facilities, hotels, health facilities, rehabilitation centers, sanatoria, resorts, social facilities, theaters and cinemas, exhibitions , reading rooms, libraries, museums and other cultural institutions, underground and land crossings, buses (including intercity and international) and taxis, lobbies, transitions and platforms, subway cars, railway, sea and river transport, bus stops, railway stations, river and sea ports, airports, payphones, elevators, common areas of multi-apartment buildings, gas stations, buildings and enterprises where flammable substances, playgrounds, beaches, workplaces of organizations , enterprises, regardless of the organizational and legal form of ownership.
The bill "On pre-school education" was also considered and approved in the third reading. The bill stipulates a number of innovations, such as the creation of educational institutions of a new type for preschool children.