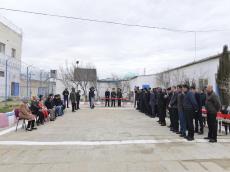 By Azernews
By Amina Nazarli
Azerbaijan's Justice Ministry has already started implementation of the presidential order on pardoning a group of prisoners.
President Ilham Aliyev signed a decree on March 16 pardoning 423 convicts.
Under the order, 412 convicts are released from the unserved part of their prison sentence. Moreover, four people were freed from the remainder of the conditional sentence, one person was freed from the remainder of the correctional labor and three people were freed from the penalty in the form of a fine.
Under the presidential order, two persons, who were jailed for life, have had their prison terms reduced to 25 and 15 years.
Forty foreign citizens are among the pardoned, including 13 citizens of Iran, six citizens of Pakistan, four citizens of Georgia, four citizens of Russia, four citizens of Nigeria, three citizens of China, three citizens of Turkey, two citizens of Uzbekistan and one citizen of Ukraine.
The Justice Ministry and the State Migration Service have been tasked to ensure the deportation of foreign citizens freed from serving the remainder of their prison terms, in accordance with the rules set by the Migration Code.
Ombudsman Elmira Suleymanova said that the pardon order brought a double joy to families of the pardoned people on the eve of the Novruz holiday.  
She noted that for the first time the act of pardon applies to people deprived of their liberty for life.
"President Aliyev pardoned me for the sake of my grandchildren," 80-year-old Samad Gasimov, who was pardoned by the order, told Trend.
"My joy is boundless. For five years I have not seen my grandchildren," he added.
A Chinese citizen, who was sentenced to 13 years' imprisonment for kidnapping his compatriot in Baku also applauded the decree.
"I am very grateful to the President of Azerbaijan for being free again," he said. "In Baku, I have no one. For seven years I met with my family a couple of times, who came from distant China to visit me. After liberation, I will return to China, to my family."