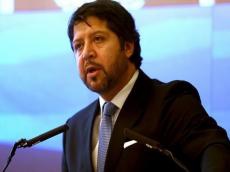 By Azernews
By Kamila Aliyeva
A meeting of senior officials of the "Heart of Asia - Istanbul Process" format member states kicked off in Baku on March 17.
This year Azerbaijan and Afghanistan are co-chairmen of the format, and this is the first event that is being held under the co-chairmanship of the Azerbaijani side. Today's meeting will discuss the works carried out and future activity directions within the framework of the Istanbul Process.
Azerbaijan, as one of the key countries in Heart of Asia – Istanbul process, and as Afghanistan's close partner, supported this process and continues to play an important role in working in different areas, Deputy Foreign Minister of Afghanistan Hekmat Khalil Karzai said while addressing a meeting.
Karzai voiced hope that the meeting of foreign ministers of the Istanbul Process member countries, which is planned to be held in Baku soon, will yield positive results in the promotion of this process and significant results will be achieved in restoring Afghanistan's infrastructure, as well as peace and stability in the country.
"We remain committed to establishing peace in Afghanistan," he said.
He reminded that today, the process of restoration of infrastructure is underway in Afghanistan.
The reforms, which are being implemented, indicate that Afghanistan follows the path of development and restoration in all fields, according to him.
The deputy foreign minister added that an important aspect of the regional economy is security in Afghanistan and they would like Afghanistan to be integrated into the regional economy.
Karzai also noted the importance of the Turkmenistan-Afghanistan-Pakistan-India (TAPI) gas pipeline project and other regional projects for Afghanistan.
The Heart of Asia is an intergovernmental organization founded in November 2011 by Istanbul, Turkey. The aim is to provide a platform to discuss regional issues, particularly encouraging security, political, and economic cooperation among Afghanistan and its neighbors.
Azerbaijan was invited to this format in 2012. Azerbaijan assumed the co-chairmanship of the Heart of Asia – Istanbul process for 2017 in early December 2016.
This region-led dialogue was launched to expand practical coordination between Afghanistan and its neighbors and regional partners in facing common threats, including counterterrorism, counternarcotics, poverty, and extremism.
Azerbaijan, as a reliable partner of NATO and friend of brotherly Afghanistan, is committed to continue its significant contribution to the Resolute Support Mission beyond 2016 by providing troops, multimodal transit, training and financial assistance.
The country has several times made substantial donations to the Afghan National Army (ANA) Trust Fund. Moreover, Azerbaijan supports Afghanistan on its path of reforms towards integrating into regional and global economy.