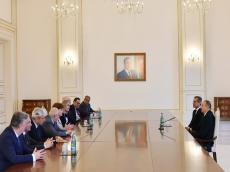 By  Azertac 
Azerbaijani President Ilham Aliyev received a delegation of the Board of Trustees of Nizami Ganjavi International Center in Baku on March 16.
The delegation included co-chairs of the center former Latvian President Vaira Vike-Freiberga and Director of the Bibliotheca Alexandria in Egypt Ismail Serageldin, and members of the center former Serbian President Boris Tadi?, former Bulgarian leader Petar Stoyanov, former Croatian President Ivo Josipovi?, former Romanian President Emil Constantinescu, former Bosnia and Herzegovina Prime Minister Zlatko Lagumdžija, former Secretary-General of the Arab League Amr Moussa, UNESCO goodwill ambassador Marianna Vardinoyannis, Azertac reported.
President Aliyev welcomed the delegation and thanked them for coming to Azerbaijan to attend the 5th Global Baku Forum.
President Aliyev said this wonderful event features an interesting agenda for discussions. The head of state said there are outstanding figures among the Forum participants, adding that their number increases year by year. The President hailed the activity of Nizami Ganjavi International Center.
Vaira Vike-Freiberga thanked President Aliyev for the attention shown to the delegation. She said that launched five years ago, the Baku Forum has achieved great success. She echoed President Aliyev`s view that interest in the Baku Forum grows on a yearly basis.
Vaira Vike-Freiberga expressed her gratitude to the head of state for supporting the activity of Nizami Ganjavi international Center. "We are friends of Nizami Ganjavi and Azerbaijan, and do our work with pleasure," she said, adding that they will continue sparing no efforts. The co-chair of the Center also said influential figures representing different countries participate in the Forum, adding that the event will create a favorable opportunity for productive dialogue.
President Aliyev praised efforts and initiatives of the delegation of Nizami Ganjavi International Center, saying their activity contributed to holding such a large-scale international event as the Global Baku Forum.
During the meeting, they exchanged views over cooperation prospects.