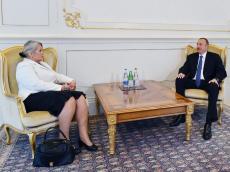 By  Azertac 
President of the Republic of Azerbaijan Ilham Aliyev has received credentials of newly appointed Ambassador Extraordinary and Plenipotentiary of the Republic of Finland Arja Inkeri Makkonen.
Ambassador Arja Inkeri Makkonen reviewed a guard of honor.
Arja Inkeri Makkonen presented her credentials to President Ilham Aliyev.
President Ilham Aliyev then had a conversation with the Ambassador.
The head of state said the two countries enjoy good experience of cooperation. President Ilham Aliyev stressed the importance of his official visit to Finland, and the Finnish President`s official visit to Azerbaijan.
The head of state recalled with pleasure his meetings with the President of Finland on the sidelines of international events, and added that cooperation within international organizations is an important part of the bilateral ties.
President Ilham Aliyev said there are good opportunities for the development of relations in various areas, including in the fields of trade and transport, particularly within the North-South transport corridor.
The head of state expressed confidence that cooperation between Azerbaijan and Finland will continue to develop successfully. President Ilham Aliyev expressed hope that Ambassador Arja Inkeri Makkonen`s activity in the country will contribute to the strengthening of these ties even further.
Ambassador Arja Inkeri Makkonen conveyed greetings of President of the Republic of Finland Sauli Niinisto to the head of state.
The Ambassador said there are good relations between the two countries, adding she will spare no efforts to contribute to strengthening the bilateral cooperation, expanding the commercial ties and increasing the number of reciprocal visits in the various areas.
Touching upon the importance of the interparliamentary cooperation, Arja Inkeri Makkonen emphasized the significance of bilateral ties and visits between Azerbaijan and Finland in this field.
President Ilham Aliyev thanked for the greetings of President Sauli Niinisto, and asked the diplomat to communicate his greetings to the Finnish President.