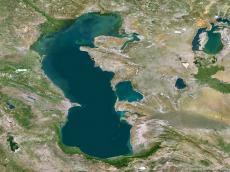 By Azernews
By Rashid Shirinov
The ad hoc working group, tasked to develop a convention on a legal status of the Caspian Sea, plans to hold its next meeting in late January, a diplomatic source told Trend on January 6.
The working group plans to continue discussions on the still uncoordinated issues regarding the draft convention, the source said.
The meeting is planned to be held in Ashgabat, Turkmenistan.
Preparation for the next session of foreign ministers of the Caspian littoral states will also be discussed during the meeting.
Issues regarding the draft convention on the Caspian Sea's legal status have been mostly agreed upon, Azerbaijan's Deputy Foreign Minister Khalaf Khalafov earlier told reporters in Baku.
 "We plan to summarize all the work in order to finally agree on a draft convention on the Caspian Sea's legal status for the heads of state to sign it," Khalafov said.
The Caspian littoral states – Azerbaijan, Kazakhstan, Russia, Turkmenistan and Iran – signed a Framework Convention for the Protection of the Marine Environment of the Caspian Sea in November 2003.
Russia and Kazakhstan signed an agreement on the delimitation of the northern part of the Caspian Sea in order to exercise sovereign rights for subsoil use in July 1998. The two countries signed a protocol to the agreement in May 2002.
Moreover, Kazakhstan and Azerbaijan signed an agreement on the delimitation of the Caspian Sea and a protocol to it  in November 2001, and February 2003, respectively.
Kazakhstan, Azerbaijan and Russia signed an agreement on the delimitation of adjacent sections of the Caspian Sea on May 14, 2003.
Russia, Kazakhstan and Azerbaijan hold to the principle of dividing into national sectors based on the "median line" principles since it is an international boundary lake, and leaving the sea surface for general use, i.e. they are for demarcation of mineral resources and the Caspian Sea shelf, but against dividing up its waters. 
Iran seeks an equal division of the Caspian into 5 even sectors, mainly because most of offshore energy resources are located away from the Iranian coastline. Turkmenistan also demands division of the Sea into equal parts between the pre-Caspian countries so that each country must have 20 percent of the sea.