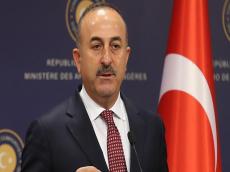 By Azernews
By Amina Nazarli
Turkey is working on creation of a new tripartite format 'Azerbaijan-Turkey-Kazakhstan', TRT Haber news channel reported citing Turkish Foreign Minister Mevlut Cavusoglu.
Cavusoglu stressed that trilateral formats created by Turkey in the Caucasus and Balkan regions, work very efficiently. Turkey-Azerbaijan-Turkmenistan trilateral meeting will be held in the coming months, he added.
The minister first spoke about the creation of Azerbaijan-Turkey-Kazakhstan format in Baku in July 2016.
Azerbaijan, Turkey and Kazakhstan - the three Turkic countries have formed good bilateral relationships over the recent years, equally benefiting in numerous ways. These relationships are expected to gain further depth and width in the near future after establishment of the tripartite format.
The three countries are also the members of parliamentary union of Turkic-speaking countries TURKPA established in 2008 aiming at expansion political, economical and cultural relations among Turkic-speaking countries.
Today, several trilateral formats, such as the Azerbaijan-Georgia-Turkey, Azerbaijan-Turkey-Iran and Turkey-Azerbaijan-Turkmenistan exist in the region.  Trilateral formats provide strong support for regional development by raising political and economic ties between three countries to a new level, according to experts.
The work is also underway on creation of Azerbaijan-Turkey-Russia format. The idea of creating the tripartite format of Turkey-Azerbaijan- Russia was initiated by Turkish President Recep Tayyip Erdogan in the framework of his St. Petersburg meeting with Russian President Vladimir Putin last August.
It is noteworthy that Azerbaijan and Turkey are key states in all those interstate formats. Azerbaijan–Turkey relations have always been strong with the two often being described as "one nation with two states".
For 25 years, Turkey and Azerbaijan jointly implemented such large-scale projects as the Baku-Tbilisi-Erzurum gas pipeline and the Baku-Tbilisi-Ceyhan oil pipeline.
Such gigantic projects as the construction of the Baku-Tbilisi-Kars railway and the Trans-Anatolian gas pipeline (TANAP) are other major projects being realized by the two.