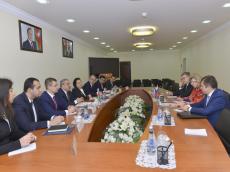 By  Azertac 
First Deputy Prosecutor General of Azerbaijan Rustam Usubov has met Human Rights Commissioner of the Russian Federation Tatyana Moskalkova.
Usubov highlighted reforms in the legal and law-enforcement spheres in Azerbaijan, as well as what has been done to strengthen the protection of human rights and freedoms in the country.
He emphasized the development of friendship and cooperation between Azerbaijan and Russia. He noted the importance of the bilateral cooperation agreement signed between the two countries from the point of view of protection of human rights and freedoms, the role of the Prosecutor General`s Office in the prevention of torture and other actions humiliating dignity.
Moskalkova stressed successful cooperation in the sphere of human rights with Azerbaijan.