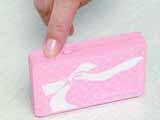 Peeing and pooping are an inescapable part of being human; so is being embarrassed. Many people absolutely dread letting loose their organs in a public restroom or, even worse, in the bathroom of a small house, with family and friends quietly sitting in an adjoining room. What are they to do?
Thanks to the brilliance of the Japanese, they can use the first-ever, palm-sized pee and poop audio masker, code-named Keitai Otohime.
Japan's first attempt to mask the unpleasant sounds of defecation was the Otokeshi-no Tsubo ("Urn for Covering the Sound") from the 19th century. It currently resides at the Takage Folk Museum in Okayama Prefecture.
Next up was the 1988 Otohime (which means "sound princess"), an electronic jukebox of sorts that produces an audio flush via the push of a button. It's still quite popular today, and can be found in department stores and office buildings all across Japan.
Fast-forward two decades ahead and behold the Keitai Otohime. The revolutionary and quite portable device masks the sounds of pee and poop by reproducing the sound of a flushing toilet. According to CNET, it's essentially a "mobile version of [the] Otohime."
Released in November 2009 by Takara Tomy Arts, the Keitai Otohime—priced at ¥1,449, or approximately $14.99—relies on two AAA batteries to deliver approximately 600 flushes, which, for the average person, means it's good for a little over half a year.
Plus the player, which is available with either a "forest" or "ribbon" design, can be attached to a keyring or tucked away into a purse or handbag.
The real goal behind this savvy albeit unusual invention is to save water. According to Takara Tomy Arts, in fact, the average Japanese woman flushes the toilet 2.5 times just to hide the sounds of her peeing and pooping. With a Keitai Otohime handy, these timid women can save approximately 4 gallons of water per use. (CNET)
The irony is that even "herbivorous boys"—aka Japanese metrosexuals—find the device appealing. One told Kyoto News, "I've always wanted something like that."
Truthfully, however, this concept of a pee and poop audio masker isn't entirely new, as Japanese company Polygon Magic hosts Eco Oto, an iPhone application that essentially does the same thing.
Anyway, we were unable to acquire a video of the Keitai Otohime, but for a live demonstration of the original Otohime, take a gander at the clip below.
/Weird Asia News/
Click photos to enlarge: