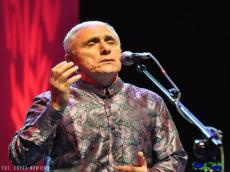 By  Trend
By Laman Ismayilova
The world-renowned mugham is truly regarded one of the invaluable pearls of the folk music.
Passing a glorious way from generation to generation mugham could gain a mythic sympathy on the heart of music lovers. No one has yet understood the magnetic power of Azerbaijani mugham, but one agrees its something majestic, something heaven....
"Mugham represents an entire world and the music of the universe that you just need to listen with all your heart and soul. Otherwise you won't understand all the mysteries of this art," says, Alim Gasimov, a prominent khanende.
The musical genre that reflects moral values, traditions, music, literature, patriotism and national history is performed by khananda, a name generally given to singers of mugham.
Alim Gasimov is one of few mugham masters honored to have a title of "Living National Treasure" of Azerbaijan. He differs for his unique style of performing, fantastically blending deep knowledge of centuries-old rules of mugham with challenging innovations.
The New York Times refer to him as "one of the greatest singers alive, with a searing spontaneity that conjures passion and devotion, contemplation and incantation".
The artistic value of Azerbaijani mugham is recognized worldwide and Gasimov could show the majesty of mugham in a famous track "I'm your Goddess" with world-famous French DJ David Vendetta. Oriental tunes are harmoniously combined with modern techno music, making the song really marvelous.
The brilliant performer has been gaining popularity not only in Europe but also in the US, Canada, Japan, Brazil, and Hong Kong.
The musician frequently stresses the role of Azerbaijani President Ilham Aliyev and First Lady, President of the Heydar Aliyev Foundation Mehriban Aliyeva, who makes tireless efforts to promote national culture.
"Our national music is known worldwide and recognized by UNESCO as Intangible Cultural Heritage of Humanity. This, of course, shows how unique our music is," he added.
In his interview with Day.az the khananda said that he has always defended the interests of mugham. Despite extremely difficult life situations, he had never thought about financial aspects of his work. He never gives up or despairs, but courageously keeps pursuing his dreams.
"Mugham is the meaning of my life. It's what I live and breathe. Through performance, I intend to convey the originality of this genre. When I have concerts abroad, an audience is giving a standing ovation not to me, but mugham. After concerts, the majority of spectators come up to me to say: "What a fascinating music with great energy and force! We are happy to found this beauty. Thank you... ," said A. Gasimov.
Characterized by a large degree of improvisation, mugham revitalizes souls, renews brains and freshens up feelings.
The mugham master confesses that his true source of inspiration is highly positive feedback from ordinary people to who he is insanely grateful.