The State Committee for Securities (SCS) registered the issue prospectus of JSCB Gunaybank ordinary registered stocks. The volume of the issue is AZN4,5 million, the face value per stock AZN4 thousand.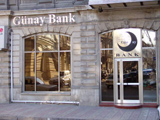 According to the issue prospectus, placement will be held by means of initial public offering at Baku Stock Exchange (BSE).
APA reports that Joint Stock Investment Bank Azerigasbank will be the underwriter of placement of stocks. Those intending to purchase stocks can apply to an organization being the member of CJSC Baku Stock Exchange and having broker's license.
The Gunaybank stock issue placement is expected to start by mid June.