Azerbaijan plans to open a trade office in Israel in the coming year, according to Azerbaijan officials.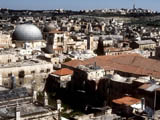 There has long been talk of Azerbaijan, a secular Muslim state in the Caucasus, establishing an actual embassy in Tel Aviv. Israel opened an embassy in Baku in 1993. A trade office could be a prelude to the opening of a such an embassy in Israel.
An Azerbaijan government source told The Jerusalem Post that the trade office would open "within the year." In an interview with the Post on Tuesday, Foreign Minister Elmar Mammadyarov indicated that opening a trade office this year is "on our agenda." He added that "having [full] diplomatic relations will happen for sure."
Mammadyarov also discussed the possibility of Israel joining in the oil pipeline Baku is building from the Caspian Sea to the Mediterranean via Turkey, to reach Western buyers.
That pipeline might then be linked with Israel, which could both use it as an energy source and provide an outlet via Eilat for shipping oil to the Far East.
Israeli Ambassador to Azerbaijan Arthur Lenk said such an arrangement would represent "a natural connection [for Israel] as a customer and for national and strategic reasons." He said "developing ties" such as the opening of an Azeri trade office or embassy in Israel "serves the interests of Israel and Azerbaijan."
The strong Azeri link with Turkey, its moderate Muslim stance, and its energy resources point to the key diplomatic importance the country could play for Israel, particularly given its location next to Russia and Iran.
But that very geopolitical significance means that the country has to balance its Western aspirations with its strategic location.
In the past, it has been suggested Azerbaijan was concerned that fuller relations with Israel could provoke Iran, and that it needed to toe a careful line as it prepared to host the Organization of the Islamic Conference this June.
However Yevda Abramov, the first Jewish member of the Azerbaijan legislature, said the issue of opening diplomatic missions was a financial one for a small country that only gained independence after the fall of the Iron Curtain.
As soon as the country begins to receive revenue from the expanded pipeline, it will open an embassy in Israel, he said.
Mammadyarov, Lenk and Abramov were among those who welcomed MK Yosef Shagal (Israel Beiteinu) for a tour of Baku this week, organized by the Euro-Asian Jewish Congress. Shagal was born in Baku and became the first Azeri member of Knesset when he was sworn in this spring. He was visiting Azerbaijan in hopes of strengthening ties between the two countries.
/www.jpost.com/