One of the 5 module stations, scheduled to be build in Azerbaijan in 2006 will be constructed at the territory of the currently functioning Baku oldest electric station (ex BakTez- 2).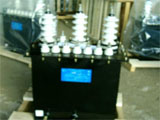 As Trend reports, 12 module blocs, 8, 7MBt strong each will be installed at the site. Building site is now being cleared out from old constructions.
Equipment and buildings of the old energy blocs are rapidly destroyed, station's director, Gulmina Guliyeva said. 4 out of 7 kettles are now at the stage of dismantling.
A first party of containers with equipment for future module power station has been delivered at the site by the Azenergy partner, Wartsila.