Operation circuit of the first and second power units of the Nakhchivan Gas-Turbine Power Station currently being reconstructed is ready.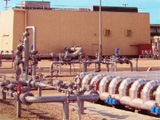 APA was informed about it by the press-service of the Azerenergy Open Joint-Stock Company (OJSC) quoting the chief of the Nakhchivan Energy Office Yasin Seferov.
According to Mr.Seferov, at present the Enerko (Germany) and GTT (Italy) Group of Companies and ABB Company of Austria implement preparatory measures and gas-regulating works in other units as well. Equipment of only these companies was used in the project.
The chief of the Office also noted that according to the work schedule, both power units are expected to be connected to the network. Currently main and auxiliary sets are assembled and a new unit is planned to be commissioned in April. So, this power plant to consist of 4 gas-turbine sets will be put into complete operation in April, 2006.
"After the station's connection to the network, additional 40 megawatts of electricity will be added to the power system," saying Mr.Seferov noted that realization of this project will improve electricity supply of Nakhchivan AR which is under blockade and receives electricity mainly from Iran and Turkey.
A 90 megawatts module power plant to be constructed in Nakhchivan this year will provide consumers of Nakhchivan with stable electricity.