A conference on Azerbaijan-Germany economic relations will be held in Berlin on May 31.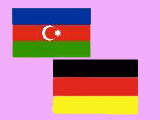 The economic development minister Farkhad Aliyev, the communication and information technologies minister Ali Abbasov and delegation consisting of 42 persons will participate in the conference.
The ambassador of the Federative Republic of Germany in Azerbaijan Detlef Lingemann and the representatives of the German-Azerbaijan Economic Aid Union will also join the conference.
According to the information given to APA from the press-service of the embassy of Germany in Baku, the purpose of the conference is to help the Azerbaijani businessmen to create connection with the German specialists. We should remember that the analogical conference was held in Baku last year, the German owners familiarized with the investment environment in Azerbaijan.
The meeting is intended to be held between Farkhad Aliyev, Ali Abbasov and the economy and labor minister of Germany Wolfgang Clement, the sides will hold discussions on development of economic relations during the meeting. Ali Abbasov will visit several enterprises working in Germany on June 2 and l get acquainted with the German information technologies. We should note that Germany exported to Azerbaijan products in the amount of 239,4 million euros in 2004. Most part of the exported products formed the automobiles and technical equipment. Products amount of 171,6 million euros were exported to Germany from Azerbaijan and most part of it formed the oil products.
It was informed from the embassy that the main target of the Germany-Azerbaijan economic collaboration was development of the private economy. In the frame of the multilateral collaboration Azerbaijan was given financial and technical aid amount of $ 300 million from Germany.