The Minister of economic development Farkhad Aliyev predicts growth of economy by 18-20%.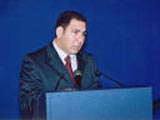 The agency Trend reports, Farkhad Aliyev informed journalist about this. He indicated, Azerbaijan oil is sold at international market twice higher than predicted ($25 per barrel), and industrial production by results of the first quarter grew more than 13 percent.    
He said, main reasons of growth are high prices on oil, the main export good of the state and growth of industrial production. "The results of the first quarter of 2005 are positive.
Previously, we planned for 2005 economic growth in 14,1%, but presently, we expect 18 percent", Aliyev said to journalists. "This is welcomed by IMF. The entrepreneurship, production is developing, financial incomes of population increase", he added.
Aliyev said, he is to propose to parliament to reconsider budget for 2005 in connection with acceleration economic growth. The parliament is to discuss this proposal in June.