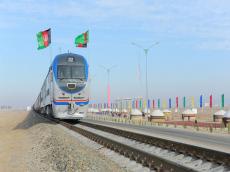 By Azernews
By Abdul Kerimkhanov
Turkmenistan-Afghanistan-Pakistan-Iran gas pipeline (TAPI) and Turkmenistan-Afghanistan-Pakistan (TAP) power transmission line and railway initiated by the Turkmen side were discussed in Kabul with the participation of the Afghan leader and chief executive Abdullah Abdullah. 
A delegation of Turkmenistan led by Deputy Prime Minister and Head of the Ministry of Foreign Affairs Rashid Meredov was on a working visit to Afghanistan.
The delegation was received by President Mohammad Ashraf Ghani, who reaffirmed Afghanistan's commitment to the traditional intergovernmental dialogue.
The implementation of humanitarian and economic projects were also considered in accordance with the agreements reached earlier.
During the visit, Turkmen-Afghan inter-MFA consultations took place, during which the sides exchanged views on key areas of interstate cooperation. A meeting of the Joint Commission for Security Cooperation was also held, following which the relevant protocol was signed.
The TAPI pipeline will run from Galkynysh – the largest gas field in Turkmenistan – through the Afghan cities of Herat and Kandahar, and finally, reach the Fazilka settlement located near the India-Pakistan border.
The total length of the pipeline is 1,814 kilometers, the preliminary cost of the project is $10 billion. Annual capacity of the gas pipeline will be 33 billion cubic meters.
Turkmen section of TAPI, the construction of which started in December 2015, will be 205 kilometers. Then the pipeline will pass through the Afghan cities of Herat and Kandahar (816 km), then on the territory of Pakistan, through the city of Quetta and Multan (819 km), and will reach the settlement of Fazilka in India.
On February 23, 2018, hthe construction of the Afghan section of the TAPI gas pipeline, which will export gas from the Galkynysh field in Turkmenistan, was launched.
The consortium, with the participation of the Asian Development Bank (ADB), continues active negotiations with all interested parties. Various options of participation in the project, such as participation in the company's share, project financing, financing through international development banks and with the help of export credit agencies from around the world are being examined.
As the leader of TAPI Pipeline company Limited, Turkmengas State Concern, which has a controlling stake, acts as the main financier and project manager.
The consortium also includes the Afghanistan Gas Corporation, Inter State Gas Systems (Private) Limited and Indian GAIL.
The foundation-laying ceremony of the TAP energy bridge was held in February with the participation of the heads of state and government of the countries involved. At this stage, issues related to the laying of transmission lines on the territory of neighboring states were agreed.
In particular, the agreement defines the volume of electricity that will be supplied to Afghanistan via the new transmission line – 300 megawatts to Herat and Kandahar cities each.
In the future, they are planned to increase to 1,000 megawatts.