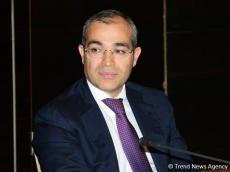 By  Trend
As a result of expanding the taxable base and defining the scope of activity of business entities, conditions will be created so that only small businesses use simplified taxation, Azerbaijan's Taxes Minister Mikayil Jabbarov said.
He was speaking at the meeting of the Cabinet of Ministers chaired by President of Azerbaijan Ilham Aliyev dedicated to results of socio-economic development in the nine months of 2018 and objectives for the future.
"In order to support the development of entrepreneurship, proposals have been prepared for reducing the simplified tax rate, providing temporary tax benefits in the retail sector and for the development of non-cash payments, exempting from taxes dividends of small entrepreneurs who keep revenues and expenses records," the minister said.
"It is also proposed to deduct from revenues a certain part of non-commercial expenses of taxpayers, including donations allocated to healthcare, education, culture and sports."
Jabbarov stressed that the reform of reducing the fiscal burden on salaries, prepared by the instructions of the Azerbaijani president, holds a special place in the package of proposals.
"In many cases, high burden of social insurance and high tax burden on salaries leads to the fact that entrepreneurs resort to the practice of paying unofficial salaries," the minister said. "This situation is one of the main reasons for the expansion of shadow economy. Despite the administrative measures, this problem still exists."
The main goal of the reform is creation of economic motivation among entrepreneurs, so that they would legalize existing labor relations, provide an additional impetus to the development of the non-oil sector and create new jobs, he added.
"We hope that as a result of this reform, the level of informal employment will decrease and entrepreneurs will have an increased economic interest in formalizing labor relations," Jabbarov said. "This process will have a positive impact on economic growth."
The minister noted that tax reforms carried out to increase the attractiveness of the business environment, the formation of tax administration based on information technologies will contribute to the development of entrepreneurship and effective cooperation between business and tax authorities for Azerbaijan's development.