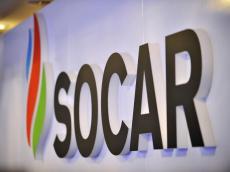 Trend:
Second high standard liquefied gas filling station of the SOCAR PETROLEUM CJSC was opened in the Badamdar settlement of Baku, SOCAR said in a message on Aug. 17.
The number of filling stations operating in the country under the SOCAR brand reached 27.
The official opening ceremony was attended by SOCAR President Rovnag Abdullayev and representatives of the company's management.
The new filling station has five fuel dispensers of Japanese manufacture, two of which will sell liquefied gas. Alongside with liquefied gas, petrol brands, such as "Super", "Premium", A-92 and diesel fuel are offered.
POS terminals for non-cash payment, SOCAR fuel card, ASAN and E-manat payment terminals operate at the filling station.
Some 30 people are employed at the station.