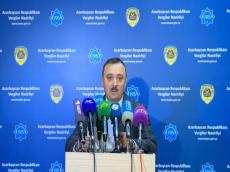 By Azernews
By Sara Israfilbayova
Ministry of Taxes of Azerbaijan has created a structure for conducting macro- and microeconomic analysis of taxpayers in the country.
Advisor to the Taxes Minister Khagani Abdullayev noted that the formation of the analytical base of taxpayers at the micro and macro levels is one of the institutional tasks of the fiscal department.
"Fundamental and deep economic research and analysis should be conducted in the tax system. This is important for a correct assessment of the taxable base, optimal forecasting of revenues for certain types of taxes," Abdullayev stressed.
The report of the Ministry also touched upon plans to conduct a broad microeconomic analysis, which, according to Elchin Atakishiyev, Deputy Director General of the Department of Economic Analysis and Expertise of the Ministry of Taxes, will provide more complete information about taxpayers and their operations.
"The Ministry of Taxes intends to conduct a thorough analysis of economic processes in a number of sectors of the Azerbaijani economy. These works will be conducted in three directions: excise goods, oil and gas market players and financial and industrial groups," Atakishiyev explained.
These steps should form a broad analytical base for taxpayers, which will reduce the number of cases of tax evasion, increase non-cash settlements.
According to Agakishiyev, the Ministry of Taxes intends to establish cooperation with taxpayers so that entrepreneurs understand that transparency of operations is cost-effective, affordable and profitable.
The law "On non-cash payments" was adopted in order to strengthen accounting in the financial system, through the development of non-cash payments.
The law envisages a limit for cashing operations. Banks and postal operators will charge a simplified tax (1 percent of the sum) for cashing of means kept in bank accounts of legal entities and private entrepreneurs. 
The Central Bank of Azerbaijan reported that in January 2018, turnover on payment cards via ATMs and POS-terminals in Azerbaijan amounted to 1.1 billion manats ($647 million). The total number of transactions with payment cards for this period was 8.1 million.
In January, the number of payment cards increased by 8.9 percent compared to the same period of last year, to 5.82 million. As of the end of January 2018, the number of POS terminals in the country equaled to 65,181, of which 36,801 were installed in Baku, 28,380-in other cities and regions of the country.