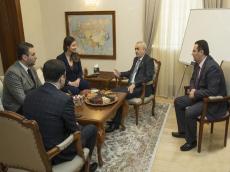 Trend:
High-speed electric trains manufactured by the Swiss Stadler Rail Group will be used in the future to transport passengers from Baku to Russia, including Dagestan, Javid Gurbanov, chairman of the Azerbaijan Railways CJSC, said.
He said this at a meeting with a delegation headed by Dagestan's Minister of Tourism and Folk Art Crafts Rabiyat Zakavova, the Azerbaijan Railways said in a message April 6.
He noted that a number of international events are held to develop the tourism sector in Azerbaijan.
The sides further discussed the issues of simplification of customs procedures for freight and passenger transportation via railways, and influx of Russian tourists to Azerbaijan using the opportunities of railways.
It was stressed that a decision has been made to build a railway to the Shahdag Mountain Resort, which will help develop tourism between the two countries.
The Dagestani guests highly appreciated the radical changes in the country and on the railways, further stressing that this would play an important role in strengthening mutual ties.