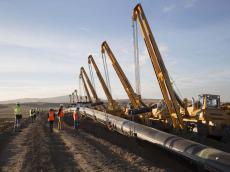 By  Trend
Around 480 kilometers of 550 kilometers-long route of the Trans Adriatic Pipeline (TAP) in Greece have been cleared and more than 340 km of the pipeline have been placed inside the trenches.
The remarks were made during the meeting held at Greek Ministry of Environment and Energy.
During the meeting, TAP AG consortium representatives said that the project in Greece is progressing according to the schedule.
The rehabilitation process has begun in more than 240 km of the pipeline to allow the land to be returned to its legitimate owners in its original condition, according to the consortium representatives.
Further, meeting participants emphasized the strategic importance of the project for Greece, as it will enhance the country's role in the energy map of Southeastern Europe.
TAP is a part of the Southern Gas Corridor, which is one of the priority energy projects for the European Union. The project envisages transportation of gas from Azerbaijan's Shah Deniz Stage 2 to the EU countries.
The pipeline will connect to the Trans Anatolian Natural Gas Pipeline (TANAP) on the Turkish-Greek border, run through Greece, Albania and the Adriatic Sea, before coming ashore in Italy's south.
TAP will be 878 kilometers in length (Greece 550 kilometers, Albania 215 kilometers, Adriatic Sea 105 kilometers, and Italy 8 kilometers).
TAP's shareholding is comprised of BP (20 percent), SOCAR (20 percent), Snam S.p.A. (20 percent), Fluxys (19 percent), Enagás (16 percent) and Axpo (5 percent).