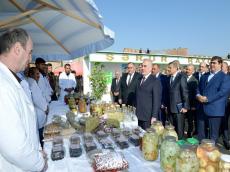 A Family Farm Products festival has been held in Nakhchivanqala Historical-Architectural Museum Complex in Nakhchivan.
The hosts of the event highlighted the history and importance of the family farms in the Autonomous Republic, Azertac reported.
Chairman of the Supreme Assembly of Nakhchivan Autonomous Republic Vasif Talibov attended the festival. He inquired about the activities of the family farms, spoke with the farmers and bought their products.
The two-day festival will feature a "Best Product" contest.
The festival is visited by local residents and tourists.