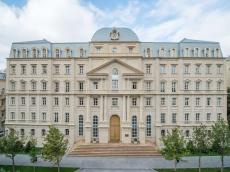 By Azernews
By Sara Israfilbayova
Azerbaijan's non-oil industry will annually grow by 7.3 percent in 2018-2021.
Azerbaijani Deputy Minister of Economy Sevinj Hasanova made the remarks at a joint meeting of five parliamentary committees dedicated to the discussion of the draft state budget on November 13 in Baku.
"The volume of the agricultural sector will increase by 6.2 percent in 2018," she added. "On average, over the next three years, the volume of the country's agricultural sector will grow by 6 percent annually."
She went on to say that the volume of the tourism sector will increase by 6.6 percent in 2018, while over the next three years, the average growth is projected to be more than 6 percent, further adding that in total, the flow of tourists to Azerbaijan has increased due to the work carried out in the tourism sector.
"The creation of modern infrastructure must contribute to the further development of the tourism sector," Hasanova said, adding that a lot of international events have been recently held in the country.
Azerbaijani Deputy Finance Minister Azer Bayramov said, in turn, that 33 districts and cities of Azerbaijan will be able to pay their own expenses from their incomes in 2018.
Bayramov, addressing the meeting stressed that local revenues of the state budget are forecasted to total 621 million manats ($365.25 million) in 2018 that is 4 percent more than the forecast for 2017.
Local expenditures are expected to amount to 424 million manats ($249.39 million) or 3 million manats ($1.77 million) more than in 2017.
Some 10.1 percent of this amount accounts for financial support from centralized state budget expenditures designed to regulate local expenditures, which is 0.2 percent points less than in the current year.
Further, touching upon the social security of refugees and IDPs, Bayramov mentioned that the Azerbaijani government plans to allocate 487 million manats ($286.44 million), which is 161 million manats ($94.70 million) or 49.5 percent more than in 2017.
These funds will be directed on social payments of this category of citizens, as well as for the construction of housing for refugees and IDPs, according to him.
Further, taking his turn, head of the Azerbaijani delegation to the Euronest Parliamentary Assembly (PA), chairman of Azerbaijan's Parliamentary Committee on Youth and Sports Fuad Muradov stated that it is proposed to increase funding of political parties from the state budget.
"Today, the budgets of some non-governmental organizations working against Azerbaijan are 5 times as many as budgets of political parties. If we want to carry out political reforms, we must revise the budgets of the parties," Muradov said.
Addressing the event MP Gudrat Hasanguliyev suggested to increase the number of judges in Azerbaijan. 
He said that the number of judges in Azerbaijan should be doubled, and this measure can be financed at the expense of funds allocated for other spheres.
"Today, the staff of judges in Azerbaijan totals 555 seats, 49 of which are currently vacant," said Hasanguliyev. "The number of judges per 1,000 capita in Azerbaijan is significantly lower than in European countries."