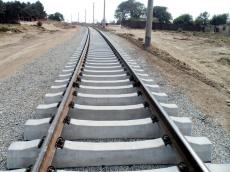 By Trend:
The tariffs for transportation of freight through the International North-South Transport Corridor may drop after the completion of a railway segment connecting two Iranian and Azerbaijani border cities, Hossein Ashouri, the head of international transportation department at the Railways of the Islamic Republic of Iran, said.
"The transportation tariffs may drop after the inauguration of Astara (Iran) – Astara (Azerbaijan) railroad within the coming months," he told Trend on the sidelines of a meeting with the railway officials from Russia, Belarus and Azerbaijan in Baku on Wednesday.
Saying that Iranian and Azerbaijani sides are working hard to inaugurate the two railway segments of Rahst-Qazvin and Astara-Asatar over the current year, he expressed hope that the Rasht-Astara segment would come on stream in three years.
Ashouri further added that Iran, Russia, Azerbaijan and Belarus railways have also agreed to refrain from increasing the tariff for 2018.
The sides will meet again within the next three months in India, to present information about the capabilities of the transportation corridor to freight forwarders in India as the corridor is expected to be extended to Belarus and Northern Europe.
Hossein Ashouri noted that the three countries of Finland, Estonia and Latvia may join the North-South Corridor in the near future.
The International North-South Transport Corridor is meant to connect Northern Europe with Southeast Asia. It will serve as a link connecting the railways of Azerbaijan, Iran and Russia. At the initial stage, it is planned to transport 5 million tons of cargo per year through the corridor and over 10 million tons of cargo in the future.