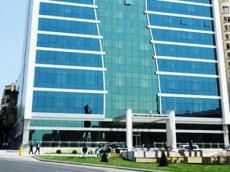 By Azernews
By Sara Israfilbayova
The State Social Protection Fund's revenues increased by 165.49 million manats ($97.35 million) or 7 percent in January-September of the current year, as compared to the same period of last year to $2.53 billion manats ($1.49 billion).
Ministry of Labor and Social Protection of Population reported that revenues from compulsory social insurance increased by 8.8 percent to 1.5 billion manats ($882.35 million).
As of October 1, the number of pensioners equals to 1.33 million people and it is 1.1 percent more than the indicator of the beginning of the year.
"Since the beginning of the year, the number of pensioners has increased by 14,771 people, 7,043 of which reached the retirement age, 1,418-lost the head of the family, and 6,310-received disability," the message says.
The dynamics of growth of labor pensions continued – as of October 1, the average monthly amount of labor pensions equaled 204 manats ($120).
The number of registered in the individual accounting system also increased, so in the reporting period, additionally 154,913 people registered, which is 13.47 percent higher than the same period last year.
As of October 1, the total number of individuals registered under the individual accounting system amounted to 3.53 million people, which is 6.39 percent higher than the figure for October 1, 2016.
The fund's revenues and expenditures for 2017 were approved at the level of 3.4 billion manats ($2 billion).
The fund's revenues are mainly formed due to revenues from compulsory social insurance deductions and hit 2.125 billion manats ($1.25 billion).
President Ilham Aliyev on May 2, 2017 approved amendments to the law "On Labor Pensions".
The amendments provide for the elimination of the concept of the basic part of the labor pension and the 12-year service required for the appointment of a pension, as well as the gradual increase in the retirement age for women and men up to 65 years.
The retirement age will increase every six months until 2021 for men, until 2027 for women. In view of the elimination of the concept of "basic part of the pension", the law introduces the concept of "minimum pension". The size of the minimum pension is 110 manats ($64.7) from January 1, 2017.
Another change is connected with the compulsory social insurance. So, now 90 percent of the deductions paid by employee on compulsory state social insurance will be reflected in his/her account.
Deductions are formed from two sources: the deductions made ??by the employer in the amount of 22 percent of the salary fund of the enterprise, and the deductions worth 3 percent of the employee's wage. Formerly, only 50 percent of these deductions were reflected in employee's account.
The law came into force on July 1, 2017 and did not affect persons who retired before that date.