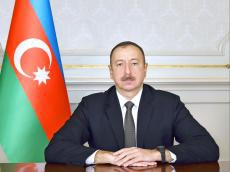 By  Trend
Azerbaijan's President Ilham Aliyev signed a decree on October 4 amending the "Decree on the Budget of the State Oil Fund of Azerbaijan for 2017".
According to the decree, SOFAZ's budget revenues increase from 8,370,589,800 to 10,813,861,600 manats, expenditures – from 14,483,856,000 to 15,242,928,000 manats.
In the SOFAZ incomes, the forecast on revenues from the sale of profitable oil and gas has been increased from 7,550,705,300 manats to 9,826,212,000 manats, forecast on acre payments – from 3,465,000 manats to 3,605,500 manats, forecast on income from oil and gas transit through the territory of Azerbaijan – from 16,830,000 manats to 17,688,500 manats.
Meanwhile, the forecast on revenues of the Fund from the placement and management of assets has been increased from 799,094,600 manats to 963,948,000 manats, and the forecast on bonuses paid by investors within oil and gas agreements, or in connection with their implementation – from 495,000 manats to 2,407,600.
A lion's share in SOFAZ expenditures still accounts for transfers to the Central Bank of Azerbaijan in order to ensure macroeconomic stability in the country. The volume of transfers has remained unchanged – 7.5 billion manats. Transfers to the state budget of Azerbaijan are again approved at 6.1 billion manats.
Expenditures for improvement of living conditions of refugees have been increased from 90 million manats to 105 million manats. Expenditures for reconstruction of the Samur-Absheron irrigation system has remained unchanged – at 70 million manats, costs within the Baku-Tbilisi-Kars railway construction project – at 165,825,000 manats, costs of financing the state program on education of Azerbaijani youth abroad in 2007-2015 – at 29,304,000 manats.
Expenditures for financing the state's share in the Southern Gas Corridor projects have also remained unchanged – at 496.155 million manats, and the costs of the Fund management – at 32.572 million manats.
Moreover, the updated budget of the State Oil Fund envisages expenditures for financing the state's share in construction of STAR refinery in Turkey at 744.072 million manats.