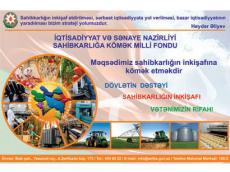 By Azernews
By Sara Israfilbayova
The National Fund for Entrepreneurship Support (NFES) under the Economy Ministry of Azerbaijan held business forum on July 13 in Dellekoba district of the Masalli region.
Following the business forum, in which about 60 businessmen took part, the NFES has started accepting entrepreneurs' proposals for financing investment projects on development of livestock, viticulture, tea growing, creation of greenhouse farms and enterprises for the production of bread and furniture.
In the framework of the mentioned business forum, entrepreneurs received preferential loans worth 309,000 manats ($181,500). To date, entrepreneurs from the Lankaran economic region received preferential loans in the amount of 119.1 million manats ($70 million) for implementation of more than 3,100 investment projects.
Deputy Executive Director of NFES Arif Valimammadov, addressing the forum stressed that the Fund has issued soft loans worth 65.3 million manats ($38.4 million) to 840 entrepreneurs, since early 2017, which will create more than 2,600 new workplaces.
About 150 million manats ($88.1 million) will be issued for granting preferential loans to entrepreneurs in 2017.
The Fund, created in 1992, issues loans to entrepreneurs through authorized banks and non-bank lenders.
The main goal of the Fund is to provide preferential loans from the state budget for small and medium business, in order to develop entrepreneurship in the Republic of Azerbaijan.
Allocation of funds by NFES is aimed at the mitigating of the impact of global economic crisis to the national economy and minimization of its dependence on the oil sector.