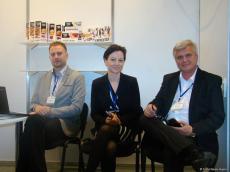 By Azernews
By Sara Israfilbayova
Polish companies focus on the Azerbaijani market and the 23rd Azerbaijan International Food Industry Exhibition gives a good chance to analyze the market, Polish Ambassador to Baku Marek Tsalka told Trend on the sidelines of the event.
The World Food Azerbaijan 2017 and CaspianAgro 2017 exhibitions are being held in Baku on May 17-19. A total of 331 companies representing 28 countries were participating in the World Food Azerbaijan 2017 and the CaspianAgro 2017 exhibitions. Some 70 percent of these companies are foreign exhibitors, while 30 percent are local ones.
This year Poland's stand is represented by 10 companies, four of which Metal-Fach, SaMASZ, Farmtrac and POM Augustow are producers of agricultural machinery and six of them operating in the food industry-Sweet Brands, Kaskat, Eko-Aronia, Maspex, Malwa and Contimax.
"Poland's stand is not very big at the Azerbaijani exhibition this year, but it is still interesting. We organized a visit of the representatives of several different Polish companies to Azerbaijan to find a niche here," the ambassador added.
Tsalka noted that the representatives of four Polish companies engaged in the production of agricultural machinery, namely, tractors, various harvesting machines and etc. arrived in Azerbaijan. "There are a lot of land plots difficult for processing in Azerbaijan and I think that this agricultural machinery is perfect," he clarified.
Janusz Pydych, the manager of Metal-Fach for Eastern Europe and Asia markets said that his company is very interested in entering the Azerbaijani market and is ready to offer farmers various farming techniques.
"Now we are trying to enter the Azerbaijani market. We are already present not only in the European, but also in the Asian market. The number of our foreign points of sale exceeds 60. We operate in the Russian market, we also established production in Kazakhstan, Kyrgyzstan, Uzbekistan, Ukraine and other countries. We already have experience in your region," Pydych said, noting that different countries need different kinds of equipment
"I know that at present Azerbaijan intends to develop its agrarian sector, and our goal is to find its market niche. In the process of development of the agricultural sector, your country will need a new technology, which we are ready to offer. Poland has already gone through the development of the agricultural sector, and we know that at the first stage cheap equipment is bought. But at the second stage, farmers begin to buy more expensive and better equipment.
Now Azerbaijan is gradually moving to the second phase, and therefore farmers will be interested in acquiring more high-quality equipment. At the first stage we can offer different types of trailers, with a capacity of 1.5-30 tons, bunk feeders and various machinery for cultivating the land. We want to get acquainted with Azerbaijan's plans for development of agriculture, and make sure that our products will be in demand here. Naturally, the first question is price range of products. We are aware that at present Azerbaijan mainly uses Belarusian and Russian equipment. We are competing with Belarusian products: in spite of the fact that our products are more expensive than the Belarusian, they are much cheaper than the world's leading brands and not yield to them in quality," Pydych noted.
Export Manager of SaMasz, Adam Rydzewski, in tune, said that they are ready to offer products that are not inferior, but even superior to the products of world brands, the costs for which are much lower than for German or American ones and that the most important criterion is customer satisfaction.
At the first stage, Polish companies are interested in exporting their equipment. But in the future, there is a possibility of creating a joint production of equipment in the territory of Azerbaijan, according to Rydzewski.
"This is a long-term prospect, but the idea is good. We need to analyze Azerbaijan's market need, the working conditions of machinery. If there is a great need, we are ready to create production here in the future," said Rydzewski.
Development of non-oil sector is one of the main priorities for Azerbaijan, as the government is eager to diversify economy. Agriculture remains as one of the priority sectors, where intensive reforms are being carried out.
The strategic road maps of the national economy of Azerbaijan were approved by the head of state in December 2016. One of the road maps is devoted to agriculture. In line with measures to be implemented in this field as reflected in this document, until 2020 in Azerbaijan it is planned to create about 20,000 new jobs and increase the country's GDP by 1.2 billion manats.
It is planned to establish an agricultural insurance fund in 2018 within the framework of the implementation of the strategic road map for the production and processing of agricultural products.