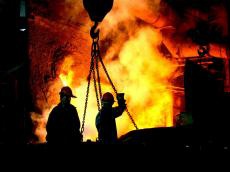 By Azernews
By Sara Israfilbayova
The metallurgical industry and metalworking enterprises in Azerbaijan produced goods worth 170.5 million manats (over $100 million) in January-April 2017, the State Statistics Committee reported.
The volume of production in the metallurgical industry for four months of 2017 increased by 2.4 percent, while the output of finished goods decreased by 29.5 percent.
In January-April this year Azerbaijan produced 67,100 tons of reinforcement, which is 25.9 percent more than in 2016.
Steel pipes were produced in the volume of 21,100 tons, which is 3.9 percent more than the indicator of the four months of the last year.
The volume of production of steel casting in the country for the first four months of 2017 was 101,400 tons, which is 14.9 percent less than in the same period of 2016.
In January-March 2017, Azerbaijan exported 11.5 million tons of pipes from ferrous metals (for the amount of $8 million), which is 17.8 percent (in monetary terms - by 17.2 percent) less than in January- March of the previous year.
Azerbaijan enjoys good potential for metallurgical production in the region. The territory of the country, which encompasses the eastern portion of the Major and Minor Caucasus mountain ranges, is distinguished with its complex geological structure, diversity, and abundance of minerals.
The largest centers of ferrous metallurgy in Azerbaijan are the cities of Sumgait, Baku and Dashkesan.