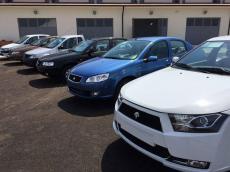 By Azernews
By Sara Israfilbayova
Azerbaijan and Iran will soon launch joint manufacture of cars in the in Neftchala Industrial District.
The plant will operate on the basis of joint project of AzEuroCar LLC and Iran's largest car manufacturer Iran Khodro. The plant was due to open in June, but because of the cold winter there were delays in the plant's construction. The opening is rescheduled for August.
The plant with a capacity of about 10,000 cars per year initially will produce four Iranian car brands – Dena, Runna, Soren and Samand. The cost of the project is estimated at $15 million.
Production of some spare parts is planned in local factories. For this, proposals will be made to the plants. If the plants receive positive feedback from the Iranian company, then the production of spare parts will begin.  
The plant intends to cooperate with the Sumgayit Industrial Park and SOCAR's new plant.
Some 20 percent of the vehicles will be exported to CIS and Central Asian countries.
Speaking about how the plant will get a share in the local market, Azeurocar's representative said the plant will produce the cheapest cars.
"The price of new cars will be 10,000-12,000 manats. The cars produced at the plant will meet Euro 5 standard". 
Azerbaijan and Iran have had diplomatic relations since 1918. Iran recognized Azerbaijan's independence in 1991, and diplomatic relations between the two countries were established in 1992.
The trade turnover between the countries hit some $15.77 million in January 2017, while the index of last January stands at $9.56 million.  In 2016, Azerbaijan's trade turnover with Iran amounted to $210.76 million, which is 70 percent more than in 2015.