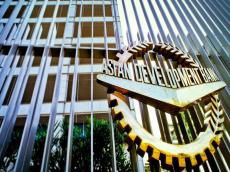 By Azernews
By Sara Israfilbayova
The Asian Development Bank expects the feasibility study for evaluation of the project on financing of the North-South Railway Corridor, as well as development of the railway sector in Azerbaijan to be completed by November.
Head of the ADB Baku office Nariman Mannapbekov told Trend that the parameters of the contract and its cost will be preliminary specified in summer, however, the final cost of the project is specified after the feasibility study is prepared.
Currently, the cost of the project is approximately $200 million. It is possible that after the preparation of the feasibility study, this amount may increase or, conversely, decrease.
The project review by the experts of the ADB is expected to take place on August 25, 2017. The date of approval of the loan has not yet been named.
The loan will be directed mainly to investments in the development of the Baku-Yalama railway line (the border with Russia) within the framework of the North-South transport project and support for the expansion of the autonomy of the management of the Azerbaijan Railways CJSC, effective financial restructuring of the company's obligations, expansion of financial and managerial Control, efficiency and accountability in CJSC, as well as business development and corporate restructuring of the department.
Allocation of funds for the realization of the North-South project is envisaged within the ADB's railway sector development program. Azerbaijan Railways CJSC is the executing agency for obtaining the loan.
The North-South transportation corridor is meant to connect Northern Europe to South-East Asia and has a strategic importance for the region. It will serve as a link connecting the railways of Azerbaijan, Iran and Russia.
At the initial stage, the North-South corridor will transport 5 million tons of cargo per year with further expansion of transportation to over 10 million tons. Along with making a great contribution to the diversification of Azerbaijan's economy the project is expected to turn the country into a major transport hub.
The project, which is considered to be a strategically important and advantageous in terms of time of transit cargo transportation, is also expected to bring great economic benefits.  The route, part of which will pass along the western coast of the Caspian Sea, from Russia to Iran through Azerbaijan enjoys several advantages compared to other transport such as Suez Canal-the Mediterranean Sea-Northern Europe and the Turkmenistan-Kazakhstan-Russia-Northern Europe routes.
 Azerbaijan, which became a member of ADB on December 22, 1999, has a 0.5 percent share in the bank's capital.
ADB's leading shareholders are Japan and the United States (31.2 percent of the total share capital), India and China (12.7 percent).