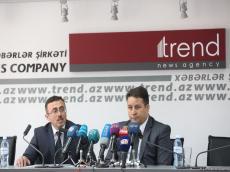 By Azernews
By  Sara Israfilbayova
Baku Expo Center will host Caspian Motor Show international exhibition of cars, spare parts, equipment and accessories presented by the manufacturers and their local distributors on June 28-30.
International Trade Fairs Group founder Agahasan Murtadci and director general Nizami Gozalov announced about this at a press conference, Trend reported.
Caspian Motor Show will be held with support of Azerbaijan Export and Investments Promotion Foundation (AZPROMO), National Confederation of Entrepreneurs (Employers) of Azerbaijan and Azerbaijani 'Silk Road' Public Union for Promotion of Development of Entrepreneurship, Gozalov told journalists.
All famous car manufacturers and their distributors have been invited to the exhibition which will cover an area of 8,000 square meters.
"The goal of this exhibition is to demonstrate modern technologies, new developments in the motor vehicle sphere," said Murtadciyev. "We stand for ensuring environmental cleanliness and safety of passengers. Therefore, during the exhibition, we want to demonstrate the technologies which will allow us to achieve this."
Nizami Gozalov, for his part, noted that this exhibition will help attract foreign investors who are interested in Azerbaijan's car market. He added that the development of car manufacturing will ensure the flow of investments to the country.
"Such exhibitions not only open up economic prospects, but also pave way to flow of investments to the country," said Gozalov. "In this regard, we are glad to invite representatives of the ministries of economy, transport, communication and high technologies, as well as organizations engaged in this sphere, experts and others to our exhibition."

"We hope that the atmosphere in the exhibition, communication between the participants and guests of this event will help improve the economy, strengthen the production sector, attract investments, to work out new projects and create new jobs," added Murtadciyev.
The founder of ITF Group also noted that in order to exchange views and experience, it is planned in parallel to hold a business forum with participation of foreign firms which will become familiar with car manufacturing in Azerbaijan, as well as experts, specialists and researchers in this sphere.

ITF Group, which has held over 200 various exhibitions and business forums over 25 years, will organize Caspian Industry Expo international industry exhibition on September 13-15 and Halal Product Expo international exhibition on December 13-15, 2017.