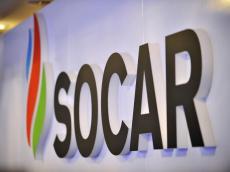 By Azernews
By Sara Israfilbayova
Azerbaijan's SOCAR will additionally produce about 43,800 tons of oil per year after the reconstruction of the fixed platform at the country's oldest Oil Rocks field in the Caspian Sea, SOCAR reported. 
The reconstruction was carried out to drill four additional wells, from which it is planned to produce 120 tons of oil daily.
 "Lowering of casing strings and cementing has already been completed, and new manifold blocks for wells have been assembled. Gas distribution unit has been connected to the existing system," the company reported.
SOCAR produced 1.85 million tons of oil from offshore and onshore fields of the country in the first quarter of 2017, as compared to 1.9 million tons in the same period of 2016.
The company produced 7.52 million tons of oil from Azerbaijan's onshore and offshore fields in 2016, as compared to 8.16 million tons in 2015. In total, 41.03 million tons of oil was produced in Azerbaijan in 2016, as compared to 41.58 million tons in 2015.
SOCAR is involved in upstream, midstream and downstream operations. Its main functions pertain to the extraction, refining, transportation of oil, gas and gas condensates, and sale of gas and oil and gas products.
SOCAR is 100 percent owned by the government of Azerbaijan. SOCAR participates in joint ventures (including ventures in Georgia and Turkey), consortia, and operating companies established with SOCAR's participation.
The company includes such production associations as Azneft (the enterprises producing oil and gas onshore and offshore), Azerkimya (the chemical enterprises) and Azerigas (distributor of gas produced in the country), as well as oil and gas processing plants, service companies, and the facilities involved in geophysical and drilling operations.