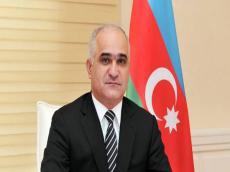 By Azernews
By Sara Israfilbayova
Azerbaijan's Economy Minister Shahin Mustafayev will visit the United Arab Emirates (UAE), where he will take part in the sixth meeting of the intergovernmental commission on economic, commercial and technical cooperation scheduled for April 20 in Abu Dhabi.
The delegation led by Mustafayev will also hold a number of bilateral meetings and attend business forums together with their UAE counterparts.
UAE Economy Minister Sultan bin Saeed Al Mansoori earlier said that economic cooperation between Azerbaijan and the UAE does not reflect the existing potential between the two countries.
He said during the upcoming meeting the parties will discuss the possibilities of strengthening cooperation in the spheres of energy, environment and natural resources.
"Such meetings are a good platform for the development of bilateral economic ties, investments and trade at a level that justifies the expectations of the heads of the states," he said.
Bilateral relations between Azerbaijan and the UAE, especially their political component, are at a high level: relations between these countries are based on multi-vector cooperation taking into account mutual interests. The two nations see rapidly increasing economic cooperation and are keen to promote tourism.
Frequent visits of the leaders of two countries significantly strengthened the political ties between the countries, at the same time stimulated the growth of economic interaction, particularly in the field of tourism.
The overall trade turnover between Azerbaijan and the UAE for the past two or three years amounted to approximately $70 million, while the export from Azerbaijan to the Emirates increased by more than twice and amounted to $11.6 million.
Mainly Azerbaijan imports goods from the UAE, which are, in fact, re-exported from other countries. It is mostly metallurgical and chemical products, textiles, building materials, tobacco products, household equipment. Azerbaijan mainly exports to the UAE fruits, juices, nuts, metal semi-finished products and so on.