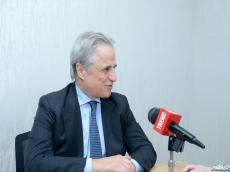 By  Trend
The drilling operation of Canada's Zenith Energy Ltd at Azerbaijani oil fields will start in 2018, said CEO Andrea Cattaneo.
Azerbaijan's Muradkhanli, Jafarli and Zardab oil fields are controlled and operated by Zenith Aran, Zenith Energy's wholly owned subsidiary in the country.
"We have been operating in Azerbaijan only a little more than six months. We are fulfilling all of our commitments to develop this activity in the country," he told Trend. "The company will bring one of the biggest rigs from China for onshore drilling activities here. We will have this rig before the end of 2017 and will start the drilling operation in 2018."
Zenith Energy believes that with drilling of a variety of new wells and related activities such as seismic exploration and technology development, the Muradkhanli field, which is the biggest onshore oilfield in Azerbaijan, will prove very profitable.
"We are creating an overseas team that brings innovative ideas from abroad, as well as technologies from Canada. We are therefore confident to show the results achieved by our input of technological development in the next two or three years," he added.
Cattaneo noted that the Company's operation in Azerbaijan's oil production arena has only just begun and will include some innovation.
"We made the first workover in the last 45 days, which hasn't been finished yet. The results of the first operation will be announced in few days," he added.
The CEO recalled that the company has two teams carrying out the workover operation at Azerbaijani oil fields.
"We will gradually accelerate our workover activities and carry out a systematic number of workover operations that will achieve a significant increase in oil production. We are also in an important phase in our negotiations to acquire a new drilling rig from China. This will be a game changer in many ways and allow the Company to achieve more sizeable and immediate increases in oil production" added Cattaneo.
Regarding the future activities of Zenith Energy in Azerbaijan, the CEO noted that the Company's ambition is to expand the scope of its presence in the Country.
"If there is an opportunity, we will be very happy to expand our activities in Azerbaijan. But first, we have to demonstrate to Azerbaijan's state oil company SOCAR the success of our methods," he said. "We are very pleased and privileged in our cooperation with SOCAR and its support is very valuable to us."
Zenith Energy is very optimistic about the outcome of its activity in Azerbaijan in terms of gaining profit, according to Cattaneo.
Regarding the impact of oil price fluctuations on the company's activities, the CEO said that Zenith Energy has a reputation to be a low-cost operator.
"So, we are always profitable. Even when the oil prices are lower, our profit is guaranteed. This allows us to look with serenity to the future of our activity despite the oil price fluctuations," he said. "I personally think that oil prices will increase in the next 2-3 years because of the lack of investments around the globe in oil and gas exploration and development."
Speaking about staff, Cattaneo said that Zenith Aran currently employs 210 people and only a few of them (top technicians) are foreigners.
"We aim to attract young people from Azerbaijan to our company and allow them to grow and contribute to the Company's expansion in parallel with their professional development. We are very pleased to be in Azerbaijan. It is a very pleasant place to stay. Baku is a very lovely city. There is a very good climate, very good security at night and during the day" added Cattaneo.
Azerbaijan's state oil company SOCAR and Zenith Aran Oil Company signed a Rehabilitation, Exploration, Development and Production Sharing Agreement (REDPSA) in March 2016 for a block that includes the Muradkhanli, Jafarli and Zardab oilfields. These fields cover an area of 642.2 square kilometers. Production under the Zenith banner began August 11, 2016.
Zenith holds an 80 percent participating interest in the three fields within the contract area – Muradkhanli, Jafarli and Zardab – while a SOCAR Oil affiliate company (fully owned by SOCAR) retains the remaining 20 percent. The duration of the agreement is 25 years, with a potential extension of 5 additional years.