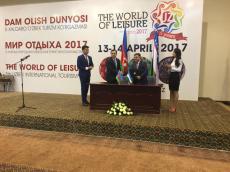 By Azernews
By Amina Nazarli
Azerbaijan and Uzbekistan will develop tourism cooperation, as the tourism associations of the two countries signed a memorandum on boosting the interaction.
The memorandum was inked by the heads of the tourist associations of the countries - Nahid Bagirov (Azerbaijan) and Nabijan Kasimov (Uzbekistan) within the framework of the international tourist exhibition "The World of Leasure " held in Tashkent.

The two sides will exchange experience and information in the development of the tourism industry, organize joint tours and events related to the promotion of tourism, as well as organize mutual trips, promote health tourism and provide support in strengthening of the tourist flow.
In addition, within the framework of the signed memorandum, advertising banners of Azerbaijan's tourism potential will be installed in the central streets of Tashkent in the coming days. Advertising will be strengthened also on the leading TV channels of Uzbekistan.
'Azerbaijan' stand at the World of Rest exhibition this year was presented by the Heydar Aliyev Cultural Center operation under the Azerbaijani Embassy in Uzbekistan.
The stand featured samples of the rich cultural heritage of the country, its tourism potential, reflected in the publications prepared by Azerbaijan's Ministry of Culture and Tourism.

During the exhibition, a presentation of the "Baku Shopping Festival" was held, where visitors were provided with booklets prepared specially about the shopping festival.
Azerbaijan's Naftalan city hotels such as "Chinar" and "Gashalty" also presented their tour packages at the international tourism exhibition.
Speaking about the Uzbek tourists visiting Naftalan, Samir Abbasov, Director of the Azerbaijan Cultural Center, said that work carried out by the center for three years to attract tourists from Uzbekistan to Azerbaijan has yielded successful results.
Abbasov noted that in recent years the number of Uzbek tourists visiting Naftalan has significantly increased, according to the information of the sanatorium.  
Located some 360 km west of Baku, the town of Naftalan, where the oil originates, has a special treatment center with unique natural treatments that cannot be seen anywhere else in the world. Naftalan, a rare type of oil from Azerbaijan, is a thick, black-brown liquid with a specific, aromatic odor, which is used only for medicinal purposes. Azerbaijani doctors have prescribed it for years to successfully treat various skin, joint and bone diseases such as psoriasis, arthritis and rheumatism.
"Bearing in mind the historical proximity between our peoples, the visa-free travel regime between the countries and existence of direct flights between Tashkent and Baku, carried out twice a week, there is a huge potential in tourism between Azerbaijan and Uzbekistan," Abbasov said.
Alongside Uzbekistan, Azerbaijan is also developing tourism with regional neighbors- Turkey, Kazakhstan and Kyrgyzstan – to launch a joint pilot tourist product "Great Silk Road".