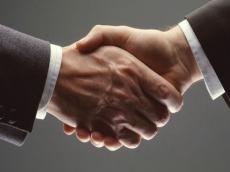 By Azernews
By Kamila Aliyeva
Russian and Azerbaijani entrepreneurs enjoy effective and fruitful cooperation which was highlighted at a meeting with local entrepreneurs that is taking place in Baku on April 13.
Russian companies willingly participate in a variety of oil and gas projects, as Azerbaijan proved to be a reliable partner.
Professionalism, qualifications, technologies and opportunities that exist in Azerbaijan allow implementing the most complex and ambitious projects here, according to Alexander Kaznacheev, the first vice-president of Russian Gazprombank.
"It's a special pride for us to tell you about the business with the [Azerbaijani state oil company] SOCAR. Relationships were built for years, now we can say that we have made a unique project called SOCAR Polymer," he stated at the meeting.
The experience that the bank acquired in Azerbaijan allows us to say that we can invest in this country, Kaznacheev said.
Kaznacheev noted that one of such projects is our next SOCAR GPC project, which is deemed to mark the beginning of a new era in development of Azerbaijan's petrochemical industry and turn the country into a major player in the industry.
SOCAR launched the GPC project worth $4 billion to maximize added value of the upstream-midstream-downstream oil and gas chain and create a cutting-edge standard processing industry in Azerbaijan. The Dutch ING Bank, the State Development Bank of China as well as the Russian Gazprombank act as financial consultants to SOCAR GPC.
Azerbaijan is seen as an advantageous investment destination for many as REC – a joint stock company specialized in export transactions, providing consultations on issues related to exports, assistance in organizing exports, providing financial and non-financial support, and interacting with relevant ministries and agencies – is considering a number of projects with the country.
A member of the board, managing director for client work and underwriting of Exar JSC Nikita Gusakov, in his turn, noted that the Russian Export Center (REC) supported export to Azerbaijan for about $500 million.
"Azerbaijan is a strategic market for Russian companies, and it has always been a country of special focus for us. We have quite large projects planned, including a joint one with Gazprombank," he said.
Currently, REC is considering 10 more projects on financial support worth over $460 million and 15 projects on non-financial support, according to Gusakov.
The largest export project of the REC in Azerbaijan, as he noted, is the support of supplies for the Azerbaijani Railways CJSC with track equipment worth $231 million.
Other projects include support for the export of metallurgical products worth $40 million, food products ($2 million), animal and vegetable products ($18 million), radio electronics and electrical equipment ($115 million), ground transportation ($19 million) and others.
Gusakov mentioned that the company develops the network of trading houses and "currently we have four trading houses in different countries, while several more are functioning on the basis of trade missions of the Russian Federation."
This year REC plans to open four or five trading houses in various countries including Azerbaijan, according to Gusakov.
"The trading house is a platform that entrepreneurs can use to sell their goods. In Azerbaijan we basically aim at working with small and medium-sized enterprises," he said.
At the same time, he added that, for the REC, the trading house in Azerbaijan will be the first one in the South Caucasus.
Russian-Azerbaijani partnership is regarded as an important factor of regional stability.
Azerbaijan ranks fifth in Russia's foreign trade with the CIS countries (following Belarus, Kazakhstan, Ukraine and Uzbekistan). At the same time, Russia is also considered to be a leading importer of Azerbaijani goods.
Today, more than 600 companies with Russian capital operate in Azerbaijan. About $3 billion of the Russian investments were invested in economy of Azerbaijan, while the share of the Azerbaijani investments in the Russian economy constitutes $1 billion. 
The overall trade turnover between Azerbaijan and Russia in 2016 amounted to $2 billion.