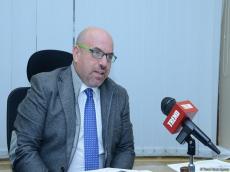 By  Trend
Italy plans to make more investments in Azerbaijan, says Luigi D'Aprea, former director general of the ITA, a trade promotion section of the Italian Embassy in Baku.
"There are great opportunities for making more investments," he explained in an interview with Trend.
D'Aprea, saying Italy started to invest in Azerbaijan many years ago, noted that the first investments were made in the fashion industry, and the first Azerbaijan-Italy joint ventures were established in that industry.
"Later, the Azerbaijan-Italy relations covered other areas as well," he added.
D'Aprea said it is planned to increase both Italy's investments in the Azerbaijani economy and Azerbaijan's investments in the Italian economy in the future. He said there are a lot of opportunities for increasing investments, particularly in transportation and logistics, especially in the free trade zone which is being created in Azerbaijan's Alat.
Saying many investors have taken a wait-and-see attitude because of the global economic crisis, D'Aprea predicted that the world economy will start to recover in 2017, affecting both investments and trade turnover between Azerbaijan and Italy.
He said this may also affect construction and infrastructure projects that are very important given Azerbaijan's strategic location, adding that these projects will attract even more investments.
D'Aprea also expressed hope that the mutual investments between Azerbaijan and Italy will grow, as there are all the necessary prerequisites for this.
He reminded about the Italian companies operating in Azerbaijan, saying they are involved in big trading operations.
D'Aprea noted that it is difficult to say the exact number of the Italian companies in Azerbaijan, as this number changes each year. He noted that there are about 20 Italian companies operating on a permanent basis in Azerbaijan, and such famous companies as Saipem, Valvitalia, Drillmec, Maire Tecnimont, Technip Italy, Tenaris are among them.
He also recalled the contract that was signed last year with Italy's Danieli – one of the three largest suppliers of equipment and plants to the metal industry in the world – which has started operating in Azerbaijan.
D'Aprea said Italian fashion industry companies, as well as several construction firms also operate in Azerbaijan.