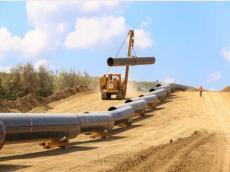 By Azernews
The Trans Adriatic Pipeline (TAP) AG has announced that construction in Greece, the project's greatest geography, advances according to schedule.
Ten months after the Inauguration Ceremony held in May 2016, construction has significantly progressed in two of the three Northern Greek Prefectures to be traversed by the pipeline: Eastern Macedonia-Thrace and Central Macedonia, TAP reported.
As of end-March 2017, out of the ca. 550 km of pipeline in total to be built on Greek soil, TAP's contractors have already received 66% of the total 32,000 line pipes to be used for the construction of the pipeline's Greek section; cleared and graded 260 km of the project's route (RoW); strung 217 km of pipeline; welded 184 km of the mainline.
Commenting on the timely progress of construction, TAP's Country Manager for Greece, Rikard Scoufias, stated: "I would like to congratulate all EPC contractors for the effectiveness and quality of their work, and kindly thank local communities and competent authorities for their collaboration."
2 out of the 5 Engineering, Procurement and Construction (EPC) contractors operating in the TAP project are Greek companies, namely TERNA S.A. in a joint venture with Renco S.p.A. and J&P AVAX in a joint venture with Bonatti S.p.A., while AKTOR has been selected by French contractor Spiecapag as its subcontractor.
The project is investing millions in the procurement of goods and services, collaborating with multiple domestic partners. Overall, 176 Greek companies have already been involved in the implementation of the project, reaping both financial benefits and invaluable expertise.
TAP will transport natural gas from the giant Shah Deniz II field in Azerbaijan to Europe. The approximately 878 km long pipeline will connect with the Trans Anatolian Pipeline (TANAP) at the Turkish-Greek border at Kipoi, cross Greece and Albania and the Adriatic Sea, before coming ashore in Southern Italy.
TAP's routing can facilitate gas supply to several South Eastern European countries, including Bulgaria, Albania, Bosnia and Herzegovina, Montenegro, Croatia and others. TAP's landfall in Italy provides multiple opportunities for further transport of Caspian natural gas to some of the largest European markets such as Germany, France, the UK, Switzerland and Austria.
TAP will promote economic development and job creation along the pipeline route; it will also be a major source of foreign direct investment. With first gas sales to Georgia and Turkey targeted for late 2018, first deliveries to Europe will follow around early 2020.
TAP's shareholding is comprised of BP (20%), SOCAR (20%), Snam (20%), Fluxys (19%), Enagás (16%) and Axpo (5%).