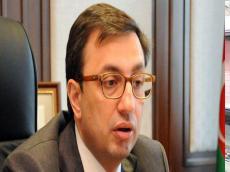 By Azernews
By Amina Nazarli
Insurance companies will bear responsibilities before Azerbaijan's Financial Market Supervisory Body (FMSB) in case of failure to fulfill their obligations under the insurance contracts.
FMSB Chairman Rufat Aslanli made the statement during a meeting with the heads of insurance companies in Baku on March 15.
He stressed the need to compile insurance contracts in such a way that they were fully understood by clients.
Aslanli further said that the development of the insurance sector will be among the focus points of the FMSB this year.  Among the steps planned to be taken this year in this regard, Aslanli named restoration of public confidence in insurance companies and capitalization of the sector.
As many as 21 insurance companies are operating in Azerbaijan. The insurance market of Azerbaijan recorded a significant growth in 2016.
The FMSB previously reported that insurance companies of the country collected premiums worth some 486.7 million manats ($283.9 million) in 2016.  The increase amounted to 9.68 percent as compared to figures of 2015.
As much as 16.4 percent of the insurance premiums accounted for life insurance in January 2016. The market grew by 53.1 percent as compared to the same period of 2015.
Earlier, Aslanli said that the FMSB will introduce certain changes to the insurance legislation of the country, noting that the main objective is to assist insurance companies in generation of long term charges.
"The current stability in the sector allows us to create a platform for profound reforms," he said then.