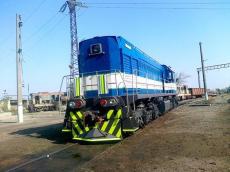 By Azernews
By Amina Nazarli
The Kazakh company 'Lokomotiv Kurastyru Zauyty' delivered to Azerbaijan next consignment of diesel locomotives of Evolution series, Kazakh TV channel reported on March 13.
Currently, 10 Kazakhstan locomotives are running along the railways of Azerbaijan, according to the channel.
"Evolution diesel locomotives meet modern requirements and are more economical. The cabins of the locomotive have all the amenities for drivers - a refrigerator, an air-conditioning system. A special system monitoring traffic safety is also installed. The whole control system of locomotives is controlled by the on-board computer. The engine with a capacity of 4,600 horsepower will not fail," TV channel quotes Akim Aslanov, the head of locomotive service at Azerbaijan Railways.
Today locomotives produced in Kazakhstan are operated on the railways of Kyrgyzstan, Tajikistan, Ukraine and Turkmenistan.
Depending on the increase in cargo traffic along the route "North-South", the country can purchase additional diesel locomotives from Kazakhstan, Azerbaijani Railways reported.  
Joint Stock Company "Lokomotiv Kurastyru Zauyty", a subsidiary of JSC "National Company "Kazakhstan Temir Zholy" (Kazakhstan Railways), opened in 2009 under the State program "Forced Industrial-Innovative Development of Kazakhstan".
The plant was one of the first signs of start of serious structural changes in the economic growth of Kazakhstan, departure from rough manufacturing, start of a new history of heavy engineering. The main purpose of the company is to make a worthy contribution to the industrial and innovative development and competitiveness of the rail transport system in Kazakhstan, as well as providing quality products to the rolling stock holders of the "1520 zone".
Azerbaijan Railways and Kazakh Lokomotiv Kurastyru Zauyty signed an agreement on the supply of 10 locomotives to Azerbaijan in August 2015. The first part of Kazakh locomotives was delivered to Baku in August 2015.
Trade turnover between Azerbaijan and Kazakhstan amounted to almost $124.4 million in 2016, including more than $26 million that accounted for the export to Kazakhstan, according to Azerbaijan's State Customs Committee.