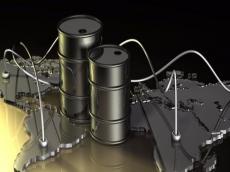 By Azernews
The price of a barrel of Azeri Light crude oil fell $3.04 to stand at $53.07 on the world markets.
On NYMEX (New York Mercantile Exchange) cost of the US light crude oil increased $0.32 to trade at $49.50. Price of the Brent crude oil at the London ICE (Intercontinental Exchange Futures) rose $0.32 to stand at $52.51.
The Azerbaijani Energy Ministry revised its forecast for oil output, following the struck of the first since 2001 deal between OPEC and non-OPEC states to curtail oil output jointly. The participation of Azerbaijan in joint oil production cuts is defined at 35,000 barrels per day.
The volume of daily production last month amounted to some 776,400 barrels, with some 50,000 barrels falling to a share of condensate. The volume of daily export stood at 604,100 barrels of oil with some 50,000 barrels accounting for condensate and 26,800 barrels falling to a share of oil products.
This January, the volume of daily production amounted to some 793,900 barrels, while the daily export was 617,000 barrels.
Prior to the landmark deal, the volume of production in the country was at the level of 37.72 million tons of oil, while daily output was at 829,100 barrels. Oil production of the country in 2017 is forecasted to stand at 39.797 million, while average daily oil production will amount to 800,000-807,000 barrels